German citizen
In the distant 1997 I was in the 9th grade, but the head of our lyceum made and exception for me and added me to the group of 10- and 11-graders who were to participate in the student exchange program. We've spent just several weeks in the USA, but that was enough time for me to see and experience good life. The things I saw in Hollywood movies on TV were real. To make things worse I had a reverse culture shock coming back to my hometown, and that was the time I made a decision to move to a rich western country when I can. I didn't want extra hurdles, so I was choosing from English-speaking countries, and Australia seemed like a perfect opportunity. During my first university years I saw a possibility to study in Germany, but was too set in my plans to pursue this.
Having completed my education and gained some working experience I have almost moved to Australia, but that failed at the last moment. So when on the same day I was invited to work in Germany, I saw this as a timely sign. After all I did study some German at school, I can freshen it up again. The waiting time to become a citizen was much longer: 8 years instead of 4, but this opportunity seemed to come into my hands. And I did want to become a citizen to have the right to stay as much as I want.
Some details I have only figured out later. Just recently the ruling party of Germany had to fulfill its xenophobic electoral promises and banned dual citizenship. You can only become a citizen after renouncing your previous citizenship, unless you're an ethnic German or an athlete. Very timely the Russian parliament introduced some laws to demonstrate the downsides of being a citizen of Russia, so I didn't really want to remain one. Then good news came: you can naturalize after 6 years already, provided that you have integrated well in the society. The terrible bureaucracy was in fact quite swift and efficient, if you don't take into account the time you wait in the line for your turn. So in the end the date stamped on my certificate of naturalization is April 15th – exactly 8 years after arriving in Germany. Though technically I only became a citizen on August 2nd, that's when I was handed this paper after waiting for several months in the line for the "festive ceremony".
Anyway I am a German citizen for a year now. I had to wait for it for so long I didn't really have the energy to celebrate it, but I finally feel calm, content, and confident.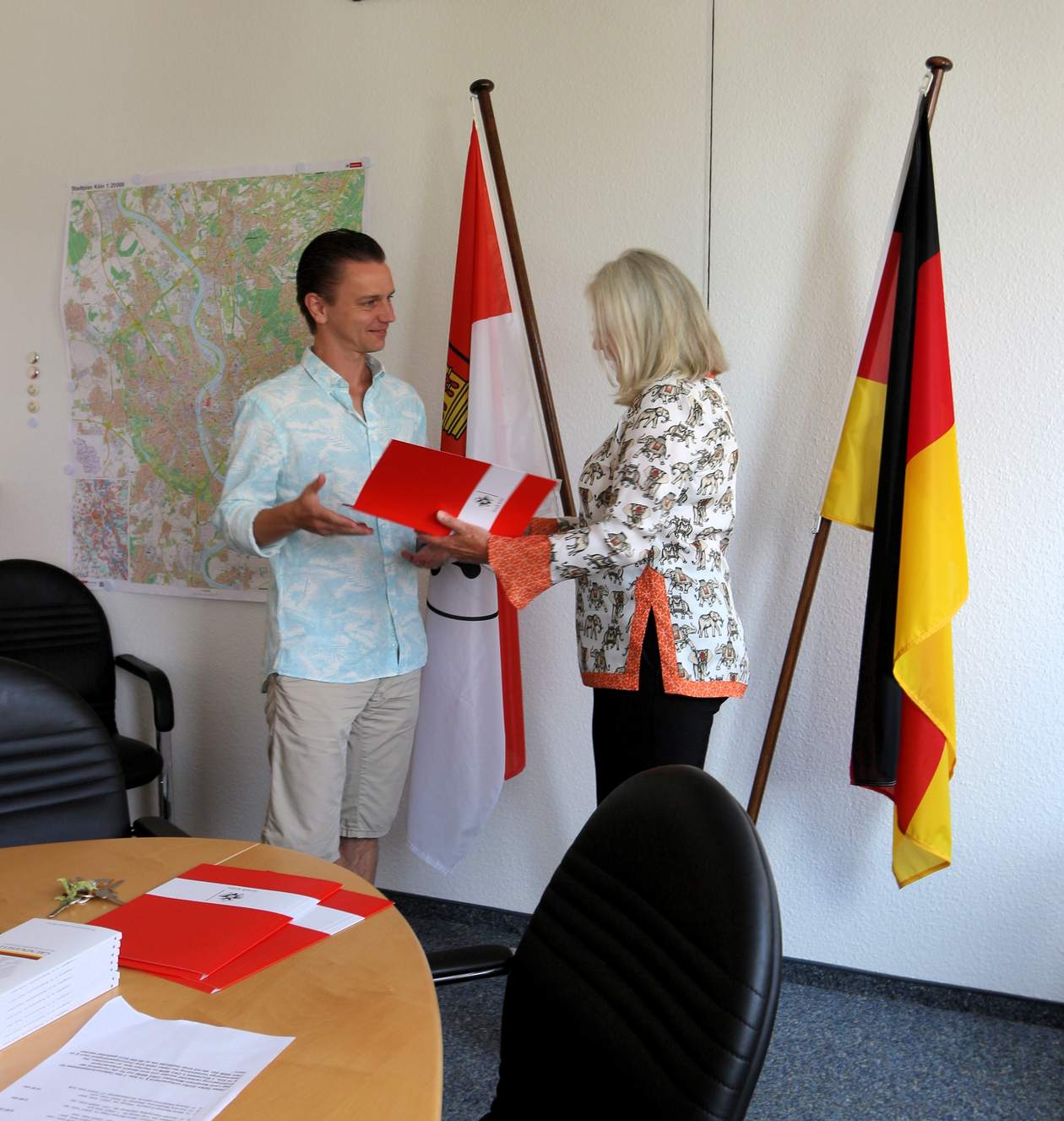 Mostly for myself I am adding here this timeline of the process. You can see in it however that the German offices were quite quick to process the documents – when my turn came. Of the two years in total some two-thirds were spent just waiting in line, and the postal delivery of the letters took its time as well.
2017-06-28 – asked how the process goes, was invited to come in to make an appointment
??? – came in to make an appointment, was offered a date in two years, questions made clear that it could be shortened somehow
2017-10-07 – asked if they would accept a certain German language proficiency certificate
2017-10-09 – no reply about the certificate, was asked to send an essay about good integration into the society
2017-10-10 – I didn't get it about the essay, sent a bullet point list
2017-10-25 – asked about the results, they requested an actual essay
2017-11-06 – wrote a perfect essay and sent it
2017-11-16 – got an approval to apply for the citizenship after 6 years in Germany
2017-11-22 – asked again if the certificate would be accepted
2017-11-24 – got an approval to use such certificate
2017-11-30 – passed the German language test, level B2
2017-12-03 – received the certificate, asked about my next steps
2017-12-15 – made an appointment to submit the documents, the closest date in 7 months
2017-12-21 – signed up for a test "Life in Germany", the closest date in 2 months
2018-01-26 – passes the test "Life in Germany"
2018-06-10 – brought in my birth certificate from a trip to the hometown
2018-06-19 – sent the birth certificate, and the marriage certificate for translation
2018-07-12 – went to the appointment and submitted all the documents
2018-08-24 – got a reply that they have to be sure about my finances, so I'd have to wait until the end of my probation period at work
2018-09-04 – finished my probation period early and sent out the proof of it
2018-09-12 – got a letter guaranteeing me a citizenship of Germany after I renounce the Russian one
2018-09-21 – requested per snail mail a proof of no outstanding taxes from the Russian tax office
2018-09-28 – made an appointment at the Russian consulate for 2018-10-29
2018-10-19 – moved the appointment to 2018-11-16 because the proof won't come anytime soon
2018-11-15 – the proof arrived at the last moment
2018-11-16 – requested the exit from the Russian citizenship at the consulate
2019-03-26 – received the proof that I've renounced the Russian citizenship, handed in Russian ID and passport
2019-04-06 – sent the proof for translation
2019-04-11 – submitted the translated proof
2019-04-15 – the certificate of naturalization is printed out
2019-04-30 – the certificate of naturalization is sent to the district office to be handed out
2019-06-19 – requested a temporary passport
2019-07-15 – asked about the progress of naturalization
2019-07-16 – was invited to receive the certificate at an earlier date
2019-07-23 – received the temporary passport
2019-08-02 – received the certificate of naturalization, became a German citizen, handed in the temporary passport